Introduction
Although Swordfish has a number of 'standard' windows such as Deals, Orders, Positions, etc., in order to view instruments on a particular exchange you will need to setup your own Watchlist windows. This system has the advantages that you can choose only the instruments you wish to see in a particular window and you can also group instruments together into various different windows. Once you have created your Instrument watchlist windows, it is advisable to close Swordfish and then re-open and login. Swordfish saves the window configuration only when Swordfish is closed by the user. For subsequent uses, your window configuration will be retained.
Method
•

Once Swordfish is open and connected to an exchange, click on

Window > New > Futures

from the menu at the top of Swordfish.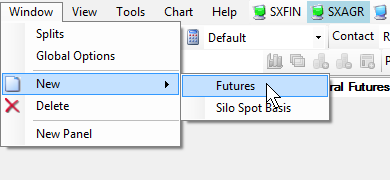 •

A new window will open with all the instruments on offer for the particular window. Use the

Type

filter value

field to narrow down items to be shown in the search. In the image below the filter value of "wmaz" was used.

| | |
| --- | --- |
| • | Select instruments to be listed in the new window by clicking the box in the first column. |
•

On completion of your instrument selection, right-click the mouse and click the

Watchlist Setup

menu item.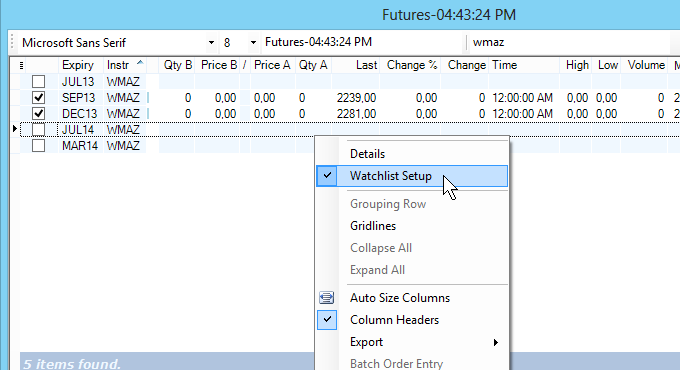 | | |
| --- | --- |
| • | The watchlist displays your selection of instruments with prices and other trade related information. |

•

Close the watchlist window for it to be reflected as a sub-item in the

Window

menu. The title of the window will also be correctly displayed (if it was changed during watchlist setup)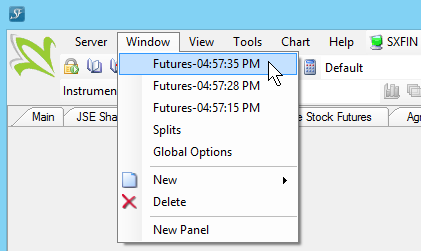 Note
| | |
| --- | --- |
| 1. | The ability to create windows and to select their contents adds a great deal to the flexibility of Swordfish. The workspace can be individually customized. |
| | |
| --- | --- |
| 2. | Although changes made to watchlists whilst Swordfish is running will be reflected immediately, the changes only become permanent once Swordfish has been closed by the user. At this time the changes are saved. |
©Estuary Solutions (www.estuarysolutions.com), All rights reserved.