Introduction
A Swordfish login allows you to link all your service logins together, so you only have to login once. This login can be used to login across all platforms, mobile, web and desktop. This allows easier management of your accounts by logging in across all platforms using a single username and password.
Registering for a Swordfish Login
•

Use a web browser to visit the Swordfish Online web page:

www.swordfishonline.co.za
| | |
| --- | --- |
| • | Click on "Buy Now" and follow the registration process. Once you have completed registration, click on finish registration at the bottom of the page: |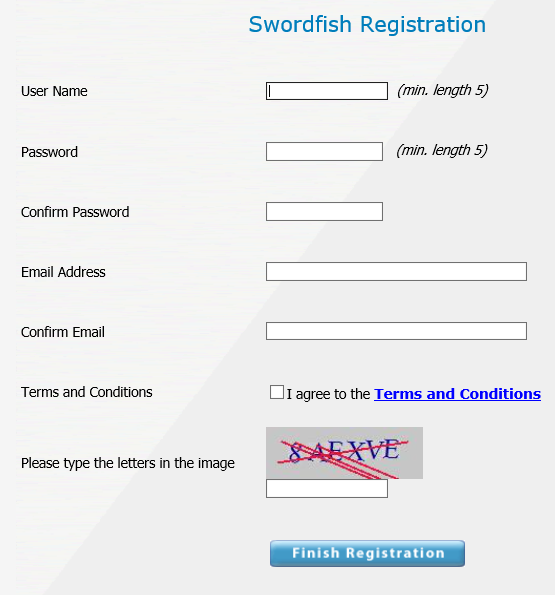 The next step is to link your services with your newly registered Swordfish Login.
Managing your linked Service Logins, using your Swordfish Login
| | |
| --- | --- |
| • | Open your Swordfish trading platform. In the top left corner of Swordfish, select Server > Configure login to select the default login type used. The following window will appear: |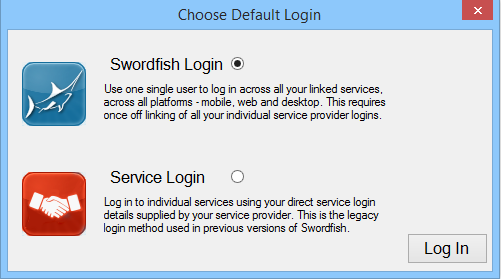 | | |
| --- | --- |
| • | Select the Swordfish Login radio button as illustrated above and click on login. This sets the default login screen – all login menu items and buttons will now open the Swordfish login screen by default. This can be changed at any time in the Configure Login screen. |
| | |
| --- | --- |
| • | In the below window enter your swordfish login username and password and click on login: |

Once successfully logged in, you can link your service provider logins. In the "Link Service provider" section, enter your service login details - service provider, username and password. Now click on "Link". If the service login credentials are valid, your service login will be linked and appear in the "Linked Services" list. Once linked, "Auto Login" needs to be selected to allow the service to log be used from the front-end. When logging in using your Swordfish Login in future, these selected services will automatically connect.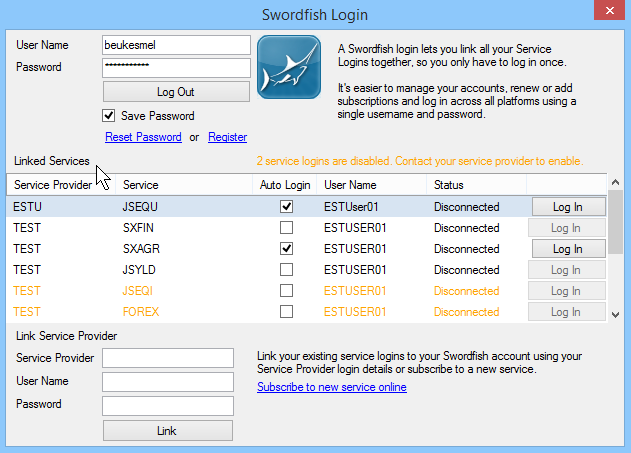 | | |
| --- | --- |
| • | When you want to log out of Swordfish, click on the Log Out button. |
How to switch active / used Service Logins
Swordfish only allows one service provider per service to be actively used while logged in from the front-end - the below steps will demonstrate how to change which ones are used.
In the "Linked Services" section of the Swordfish Login window, the currently active service and service provider must be logged out by selecting the Log Out button, before a new service provider can be selected for service.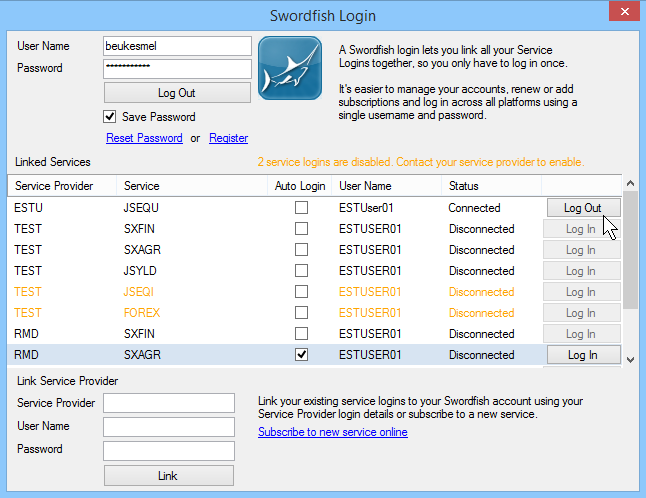 ©Estuary Solutions (www.estuarysolutions.com), All rights reserved.