Introduction
Swordfish Demo provides the opportunity to create a "learning/testing" environment for clients by enabling the same trading functions as the live version, except for a 15 minute delay in data feed. Deal management and Report only features are not supported on this version of Swordfish. Swordfish Demo is used free of charge.
Method
•

Open Swordfish to make use of Swordfish Demo. For first time users enter your email address in the space provided and press

Activate Now/Password Reminder

.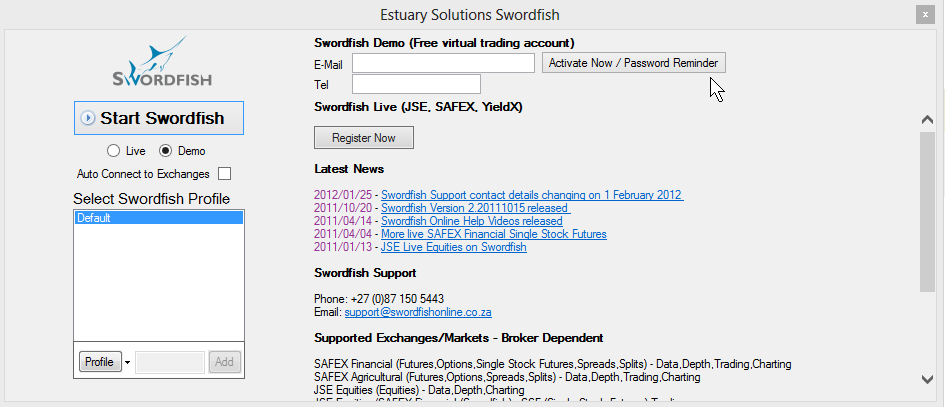 | | |
| --- | --- |
| • | You will receive an email from the account Swordfish Online (support@swordfishonline.co.za), with your login details. The email contains a link which you need to click on in order to fully activate your demo account. |
| | |
| --- | --- |
| • | If you do not select the link, your demo account will expire within 30 days. |
(The login details you receive via email are used to access the SAFEX Financial, SAFEX Agricultural, JSE Equities, JSE Trading and JSE Trading CFD Markets.)
•

Once you have your login details, check the

Demo

radio button and press

Start Swordfish.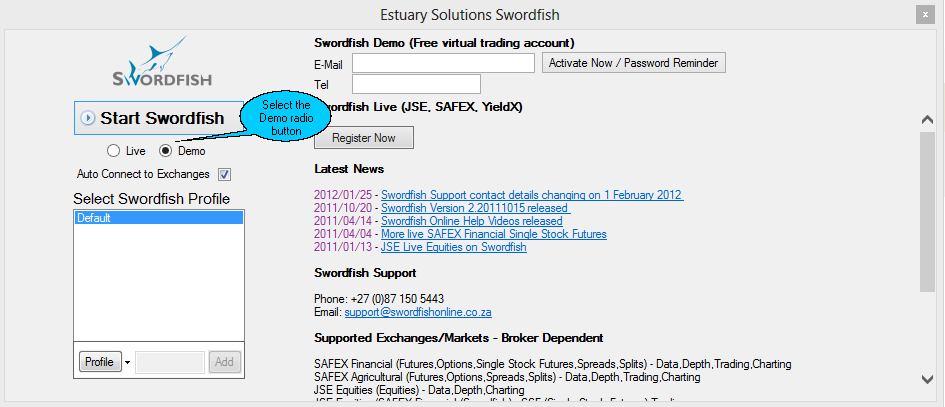 | | |
| --- | --- |
| • | If you have never used Swordfish before, follow the "Swordfish in 10 easy steps" videos to help you learn how to trade with and use Swordfish. |
Note
1.Swordfish Demo enables the client to trade safely with "fake" money on the Demo account, recreating the real online trading world.
2.You can view your balance by clicking on Swordfish menu Tools > Portfolio > Value Summary to see the summary information.
3.Should the cash balance not display, select one of the exchanges on Swordfish and click on the Portfolio Calculator icon. (illustrated below)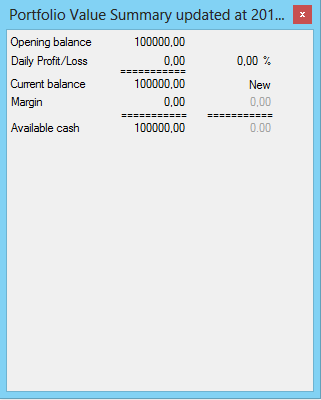 ©Estuary Solutions (www.estuarysolutions.com), All rights reserved.