Introduction
This section explains how to submit a Silo Spot Basis offer to the exchange.
Method:
1.

Ensure that you are logged in to the Safex Agricultural exchange, ensure

is

your Swordfish selected exchange and ensure you have trading rights on this exchange. If unsure about your trading rights then contact your broker to verify your rights.
3.

Click on any of the following quantity cells: Quantity Bid labeled as

Qty A

or Bid Price labeled as

Price A

.

| | |
| --- | --- |
| 4. | See the Ask (SELL) window (below) for the Silo Spot Basis. |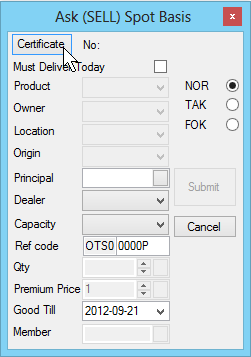 5.

Click on the

Certificate

button to open the Certificates Window.

Find the desired certificate, double-click on the certificate row or click on the

OK

button.







| | |
| --- | --- |
| 6. | See the Ask (SELL) window with the details of the selected certificate: |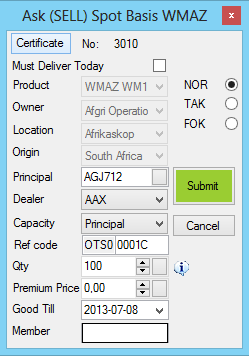 7.

Adjust the required fields and click on the

Submit

button

.
8.

Click on the

Submit

button to send the bid to the exchange. If the bid was accepted by the exchange and if the order did not immediately trade view the order on the Silo Spot Basis Orders window.
©Estuary Solutions (www.estuarysolutions.com), All rights reserved.