See also
Introduction
This section explains how to submit an order to the exchange.Watch the video Order Placement.
Method
| | |
| --- | --- |
| • | Log in to an exchange on which you have trading rights. |
| | |
| --- | --- |
| • | Select the instrument by left-clicking the mouse on the instrument name - the row containing the instrument is surrounded by a dotted line and there is a small black arrow in the left margin, indicating that the instrument is selected. |
| | |
| --- | --- |
| • | Click on any of the following quantity cells: |
Bid Quantity labeled as Qty B,
Bid Price labeled as Price B,
Ask Price labeled as Price A,
Ask Quantity labeled as Qty A.
Clicking on the bid quantity or bid price for a particular instrument will open a Bid order placement dialog box.
The shortcut for opening a Bid order placement dialog box is the F2 key on your keyboard.
Clicking on the Ask quantity or Ask Price will open an Ask placement dialog box.
The shortcut for opening an Ask placement dialog box is the F3 key on your keyboard.
| | |
| --- | --- |
| • | In other words, the type of order Swordfish assumes the user is going to submit will depend on whether the user clicks on the Bid or Ask side. In the image below, the user has clicked on the Bid Qty for the instrument showing the order placement 'Bid' dialog box (default behaviour). See Environment Options, Swap Order Place Box for more options. If the user has no trading rights the order placement dialog box will not appear. |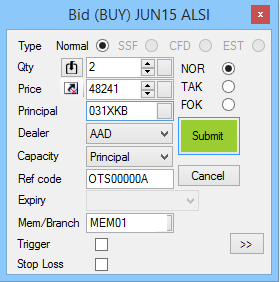 •

Once the order is ready to submit, click on the

Submit

button to send the order to the exchange. If the order did not immediately trade, view the order on the

Active Orders

window.
Note
| | |
| --- | --- |
| 1. | Note the small button next to the price field - clicking the button will cause the price to follow the market. In the example above, the price will follow the best offer price. If the order placement above was for an offer, the price would follow the best bid price. When activated, this button's image is . |
| | |
| --- | --- |
| 2. | A user must have trading rights to be able to submit orders. |
3.

The order type can be one of the following (

subject to the rules and workings of the particular exchange

):
NOR

Normal

The order is submitted and if only a portion of the order is filled, the remainder remains

as an active order on the exchange.

TAK

Take and Kill

The portion of the order that can be transacted immediately is completed and any

remainder is 'killed', ie. canceled.

FOK

Fill or Kill

The order must be completed in its entirety or else the entire order must be 'killed'.
| | |
| --- | --- |
| 4. | Bear in mind when submitting orders that you may be subject to restrictions in terms of quantity and or price, such restrictions placed by either the exchange or an intermediary such as a broker. |
©Estuary Solutions (www.estuarysolutions.com), All rights reserved.